New Release from Jody A. Kessler - Blog Tour & Giveaway! Both novels in this award-winning series will be on sale for only .99 cents for a limited time.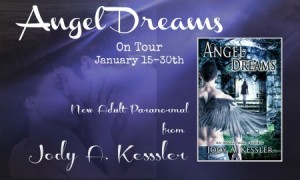 Supernatural boundaries will be crossed as Angel of Death, Nathaniel Evans, risks his eternal soul to save the one he loves, the paranormally gifted and nature-loving, Juliana Crowson.
While working with a new client, Nathaniel finds out that pissing off a demon-wielding warlock in order to help a suicidal teen with misplaced sexual tendencies may be the last thing he ever does as an angel. Unable to stand aside, Juliana's involvement in Nathaniel's new case quickly develops into a misadventure with gun-toting bikers, table dancing, and a shamanic exorcism performed by her temperamental Native American friend, Chris Abeyta.
Can Nathaniel and Juliana's love endure blood-letting rituals in the forest while helping a terrified teen find the will to live, or will fate and the rules of the afterlife tear them eternally apart?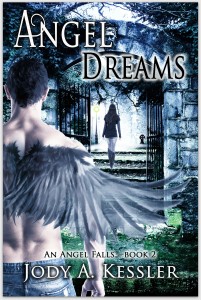 Read an Excerpt
from the Novel
The melting butter sensation had made its way to my back and is creeping north and south simultaneously. In another minute I'm going to be a warm puddle. "An Irish Dullahan is a being that comes at night, he's headless, and forewarns of death."
"Ah, maybe that is what I used to be, but definitely not anymore."
His velvet rich voice caresses me from the inside out. I can feel his strength pulsing through his fingertips as he strokes my palm. His clean scent lingers in the air and I let myself drift away with the symphony of sensation.
"Sweet vixen, are you all right?"
"Hmmm?"
"Are you falling asleep?"
"No, why?"
"Your eyes are closed, love."
"It's fine. Please don't stop, Nathaniel." There it is again, a part of my brain notes, speaking without my permission.
He raises my hand to his lips and kisses the heel of my palm, then the inside of my wrist and up my forearm to the inside of my elbow. The top of my shoulder becomes his next destination and then along the edge of my collarbone. I want to protest — remember, taking things slow — but the jelly which my insides have turned into must include my voice box because recognizable sounds are no longer possible. Feather soft tickling on the side of my neck leaves me breathless, and all reason has now left the building. Somehow my hands have joined my betraying mouth and are doing things without my consent, like they have a separate mind of their own, even though I can still feel what they feel. Strong cords run up the back of his neck. The thick waves of his hair are soft and scrumptious between my fingers. My hand wraps around the base of his skull as he teases the underside of my jaw with his too warm mouth. My other hand moves over his muscular shoulder and down his back. He's so strong and so solid.
At some point I must have pulled him on top of me because I'm suddenly aware of the smell and feel of crushed grass beneath me. My ear is being nibbled and I can hardly breathe, not because of the weight of him, but because of the sheer excitement and the rush of blood pounding through me. It's taken my breath away. Turning my face to find his mouth, he's all too agreeable to meet me. My self-control has become as distant as yesterday's breeze.
"You have the most kissable mouth I've ever seen," he whispers and then proceeds to prove his statement.
Nathaniel is strong and gentle and urgent and tender. I send out a silent prayer to Father Time to let this perfect moment last forever. How did I not know kissing could be like this?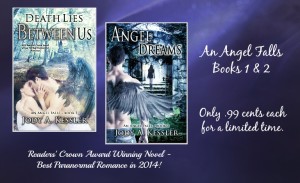 About the Author
When Jody isn't navigating the terrain of her imagination and writing it down, she can be found exploring the wilderness of Colorado with her family, or in the kitchen baking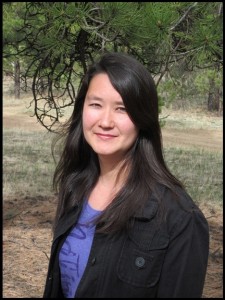 cookies & brownies - and then trying not to eat them all. She's passionate about continuing to learn and reads anything and everything that catches her interest. Jody is a full time mom, a Reiki Master, and has taught Hatha yoga for over a decade.
Jody's debut novel,
Death Lies Between Us
, is the winner of RomCon's Readers' Crown award for best Paranormal Romance in 2014. She is currently working on a historical time travel series set in Montana in the 1860's. The first book in the series,
The Night Medicine,
will be published in March 2015.
Jody A. Kessler invites you to visit with her at:
www.JodyAKessler.com
, or on
Facebook
&
Twitter
For a chance to win a $10 amazon gift card or a signed paperback of the
Death Lies Between Us (An Angel Falls, #1
) please enter the rafflecopter!
a Rafflecopter giveaway
To see a complete list of tour stops, please click here:
http://jodyakessler.com/newsevents/
My Review:


I was slightly nervous going into Angel Dreams. I had read Death Lies Between Us over a year ago and with so many books since then, I thought I'd have a hard time getting into the plot. This wasn't the case at all. Actually, I feel like this book could be read as a standalone and a reader could easily get drawn into the paranormal plot.
Nathaniel was my favorite character from the last book, so I was glad to see him back and in fine form (well at least most of the time). Honestly, his relationship with Jules turns me into a big pile of mush and I had a cheesy grin on my face during the times they're relationship was "on." They had a lot of drama thrown at them in this book, but overall I was happy with how things concluded.
Jules is a good character. She's funny and I liked how she was able to tap into her inner strength when faced with adversity. The plot of this book was a little darker than the first in the series, but I felt like there were enough lighter moments to not make the book too heavy of a read.
The secondary characters were well developed and I liked most of them. I wasn't a huge fan of shaman Chris. Just the way he spoke to Jules made me want to slap up side the head. In the beginning, he says something like "Stop being so naïve, woman!" He wasn't on my good side from then on.
I liked the pace a lot in this book. Book number one set up characterizations and provided background on the paranormal world Kessler has created. This paranormal world is expanded on in Angel Dreams in a very natural way.
Overall, I'd recommend the book for readers of YA and adult paranormal romance. The romance part is very innocent, but I still like reading books where the romance is angsty with lots of longing looks and innocent hand holding.
Rating: 5/5 Stars